27th Nov 2008


A Fun Fun Day for
LZfamily
! So what was it that we catch and eat?
Prawns
lor!
Hahaha...
.
We have been out of the house since 11+am and didn't get home till 10+ pm! Weather was great! After prawning, we went to
Ikea Tampines
for dinner and went over to
Giant Tampines
. Call me a '
mountain tortise
', I have never been to Giant @ Tampines and it is HUGE! My legs were aching like mad and so were
LZ
! I think we seriously need a break during weekend, I mean ME!
Don't intend to write much and let the pics do the 'talking'!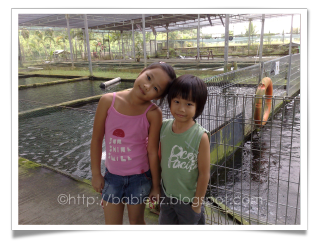 We walked around the fish farm before we went for prawning.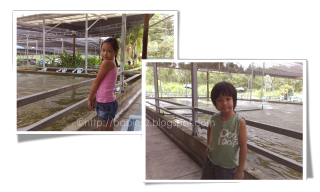 Come, pose for mommy before we start!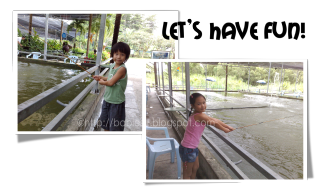 Both ready for prawning! We had the whole prawning section to ourselves!
L
was very excited to catch the prawns first, of coz with mommy's help.
Hehehe...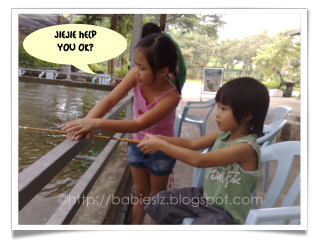 I was very happy to see both my babies spending time doing something different and it was another great way for family bonding. I don't think we can do this often when Beanie join us, maybe when he is older.
When
Z
saw jiejie caught one, he was disappointed that he didn't. Since I have the luck to catch it, I gave Z a helping hand and he caught one.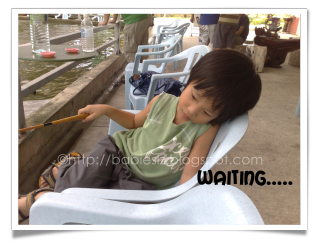 After catching 4 prawns, we waited and....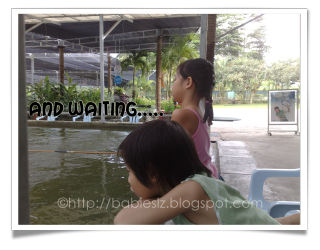 waited.... While waiting, we munched on snacks that I packed along. We were surprised that both were so patient to wait so long. We planned to do 'fishing' for only 2 hours but
Z
requested for another hour coz he wanted to catch another one (
which they did without our help
). We obliged coz we think it is good way to 'train' them to be patient.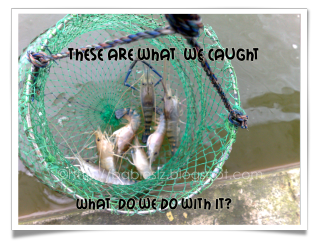 These were the catch of the day. I thought it was very miserable to catch only 7 prawns.... Ok... At least they are big!
Instead of bringing it back home, we baked it at the farm. We will definitely come back coz the prawns were bigger than those that we caught the
last time
and they have an oven and seasoning for our use! Gosh! I just realised the last time we did prawning was in Oct 2006!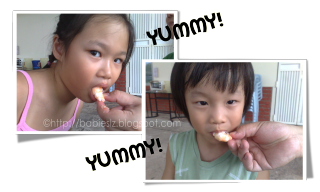 Savouring the prawns... I think it was exceptionally tasty coz they caught it.
LZdaddy
calculated and told us the prawns were expensive ok..
3 hours and we caught only 7.
Mainland Tropical Fish Farm
No.1 Pasir Ris Farmway 1, Singapore 519352
Besides prawn fishing, they have fish spa therapy too. Btw, I am not paid to advertise for them hor.
Good thing must share right?