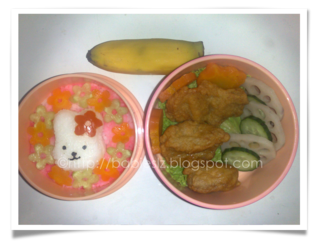 Left container: Rice with denbu and bunny shaped rice. Nuggets, carrots, lotus and cucumber. Banana by the side.

Since I am feeling better this morning, decided to prepare bento for my princess. Realised I don't have much left in the fridge and so cook the nuggets for her and 'compensate' by decorating the rice.
Some of you asked how I prepare the lotus, I simply steamed it when I cook the rice. I remembered I tried out
Elaine
's recipe using lotus roots and it taste great too. My kids love lotus root so I boil soup with it too and I have another recipe that I yet to try out. Will share once I have try it.