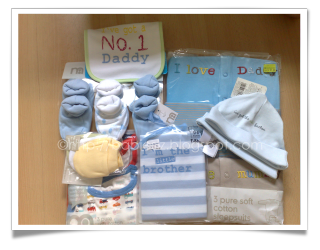 Did you notice we bought a bib way too early? Well, LZdaddy likes that and he can't resist getting that for his little boy and what does it says?

"I've got a No.1 Daddy!"

.
Over the weekend, decided to meet up with godparents to shop for
Beanie
since I have the Mothercare birthday month discount card.
L
was excited to help me choose, she has my gene (
love to shop
).
Hehehe...
. I think I didn't buy much though... Will have to get necessity stuffs for him instead of shopping blindly. I love shopping for baby! There's so many things I would like to buy!
It is fun shopping with my best friend now when she has a baby too and our babies age is close.
When I look at the way they handle
Chyene
, I know I will be doing the same in a few months time. After dinner,
LZdaddy
was relaxing and reading papers and I told godma,
"Ya, now can relax and read. When Beanie is born see if he can do what he's doing now."
Hahaha....