I planned to bring them to Downtown East for a day of fun but my LZ rather go to Time Zone! They are so easy to please!
We went to MacDonald for lunch, upon their request and they got free toys since they had the kiddy meal.

Enjoyed their meal at MacDonald!
Craft time!
After a good meal, we went to do art & craft and followed by Time Zone. Needless to say, they went straight to their favourite machines,
Dino Land and Love & Berry
. After spending some time to 'collect' their cards, we went on to play other games. Blessed Mum and her 3 babies came by to wish
LZ
'Happy Birthday'. How sweet! The girls were happy to see each other after a week break.
LZ had lots of fun on the 'simulator'.
We continued with games till Godparents came over to meet us to pass
Z
's his pressie and we spent some time with them. Thank you my dear friends!
You should see how
unglam
Z
was! He squatted down with godpa and opened his pressie! AND he started playing with his new toy,
Bakugan
! That is
Z
's latest craze!
L
and I were more interested to play with Chyene and chat with godma.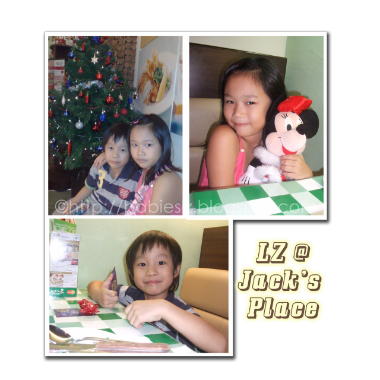 It was tiring for
Z
and me coz we got to rush home to pick up his piano lesson bag and went off for his lesson while
L
stayed with godparents. After his lesson, we meet up with
LZdaddy
to have dinner. You know, when you have
2 kids
birthdays on the
same day
, it is not easy to please both.
L
wanted to have dinner at
Jack's Place
and
Z
wanted it at
Sushi Teh
. In the end, they played a game of scissor, paper & stone to decide.
L
won and we went to Jack's Place. Thank gooodness
Z
is a easy to please boy.
We promised him an ice cream after dinner and he is happy!
As we have promised
LZ
that we will get them books for their birthdays, we went over to
Borders
to choose what they wanted.
Z
already made up his mind that he wants to have a book on
HAMSTERS
! Which really surprised me!
He told me he wants to read more on it to take good care of his pet. For
L
, she wants more books from the
Magic Tree House series
so we bought that for her.
Looks like my babies chose something that they both can share.
By the time dinner ended, we were all very tired... We had to cancel the plan to watch a movie. Both my little ones fell asleep even before
LZdaddy
drove out from the carpark.
Babies, Happy Birthday to both of you! Both of you are my precious little ones that bring so much joy and laughter to us! We LOVE BOTH OF YOU VERY MUCH!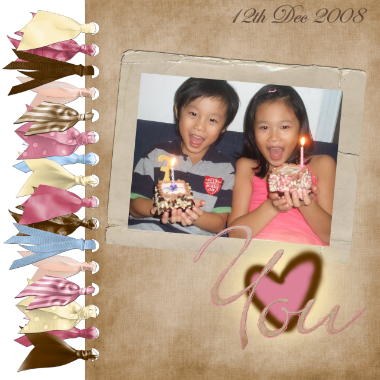 When we got home, both remembered we bought 2 small cakes for them and stayed awake a little while more so they can blow candles again.
I just find it weird not to blow candles and sing birthday song on the actual day. Anyway, my babies love this idea too!
Oh! Before I forget, some of you were asking if I planned to deliver them on the same day. No,
Z
decided to come out a few days
earlier
to join his
jiejie
on this very special day. It was
NATURAL
birth. We actually expected him to be an overdue baby coz
L
was. Doc told me that chances were high that
Z
would be late since jiejie came out a few days past her due date but I think he would rather have the same birth date as jiejie.
I remembered the nurses were more excited than us, they kept looking at the time!
Hahaha...