We promised LZ to visit Ah Ma this weekend and so off we go! Though they don't see Ah Ma often or don't communicate much with her, they love the attention they get from her (Ah Ma speaks mandarin and Hokkien).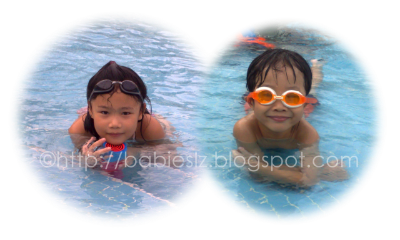 They had fun at the pool before we headed back to the house for dinner. I am very blessed... Everyone is concern how am I going to handle 3 kids and my confinement and not forgetting that I
DO NOT
have a maid! I have yet to get a confinement nanny! My MIL offered to help me but I can't ask her coz she is already 70+ and I shouldn't trouble her. My 2nd BIL offered to take care of
LZ
while I deliver and so he suggested they stay for the night so they can get used to their house.
LZ
were thrilled! Coz their uncle promised them more time at the pool the next morning. Before we leave, I told them the dos and don'ts during their stay.
While on the way home, I was already missing them...
LZdaddy
said it is a good idea to let them try out so we know who to turn to when I am in hospital. I know.... But I just can't help missing them. Few hours hour later, BIL smsed us that after playing with 2 gorgors,
Z
fell asleep and followed by
L
.
Phew!
At least I know they are ok sleeping in BIL's place.