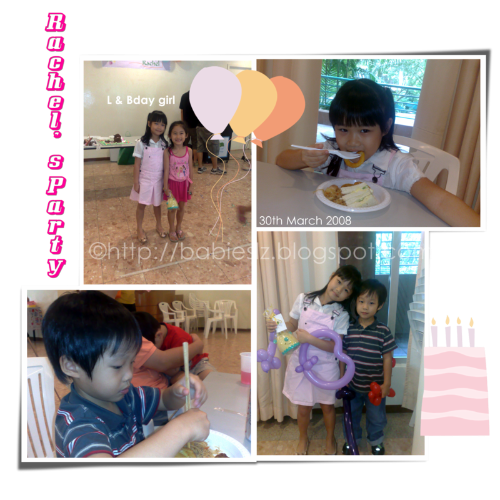 It was
Rachel
's (
L's best friend
) birthday party
:)
LZ
have been looking forward to that. They insisted on getting a pressie each for Rachel, which never happens before, usually I decide for them or L helped me.
LZ
fell asleep on the way and it took them some time to warm up when we arrived. Rachel's mommy was very sweet, she make sure both my kids, especially
L
enjoyed the party. There were games, magic show, balloon sculptures and yummy food, prepared by Rachel's mommy. My boy was more interested in the food than the magic show.
L
, on the other hand, was very shy throughout and watch and played games quietly.
After the party, we went to the mall and there was magic show (
again
)! While watching the show,
LZdaddy
& me were invited to go on stage to assist the magician. We didn't want to but
LZ
insisted that we should. I think they were more excited than us
:)
I felt so uncomfortable being on stage but when I saw how happy my
LZ
were, it was worth 'embarrassing' myself in front of the audience
:)
For 'helping' out, the magician gave my babies balloon sculptures and pressies. Today, we drove home with lots of balloons sculptures and BIG smile on
LZ
's faces
:)