After LZ's lesson ended (holiday programme which I will mention in a later post), we headed off to Snow City with Blessed Mom and her 2 princesses. I was late picking them up coz I needed to find 'thicker' clothing for them. It was tough coz LZ are not afraid of cold so I don't buy 'thick' clothing for them and they have never been to cold countries and we have never been to this place.

We had a quick lunch at Macdonald... My poor boy, being outcast by the 3 girls... :( Never mind.... Auntie Michelle and mommy 'sayang' him.

It was raining after lunch and I was wondering then if we made the right choice to go today. Weather cold and it was colder inside Snow City. But looking at their faces and saw how excited they were, I know we were right :)


Getting them to dress up was soooo tiring! Besides putting on a long sleeve t-shirts, they wore thin jackets, waterproof pants, boots & thick jackets (from snow city). Michelle was very sweet to prepare 3 additional sets of gloves for us and a scarf for Z. That save us some money ;)


Finally we were ready to brave to cold! It was not as bad as I thought it would be.... I was only wearing a 3/4 sleeve t-shirt and a thick jackets. LZ felt the same too... L spent lots of time with her friends and left Z and me :( He seemed ok with it and he enjoyed my company most ;)Hehehe...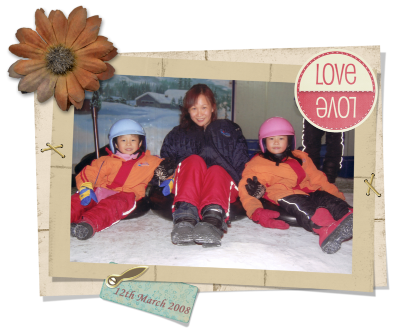 L
enjoyed sliding down the slope most, going up countless of times with her friends.
Z
enjoyed playing with the snow more. He didn't like having to queue and he will go for it when I say there was no one queuing up. Both enjoyed making snowballs
:)
I wished I had more pictures of them playing but we were not allowed to bring in camera. I had to buy the pictures from them and it is
expensive
!
When we came out of the place, both their faces were so rosy! I am glad that we have arranged this outing and we enjoyed it.