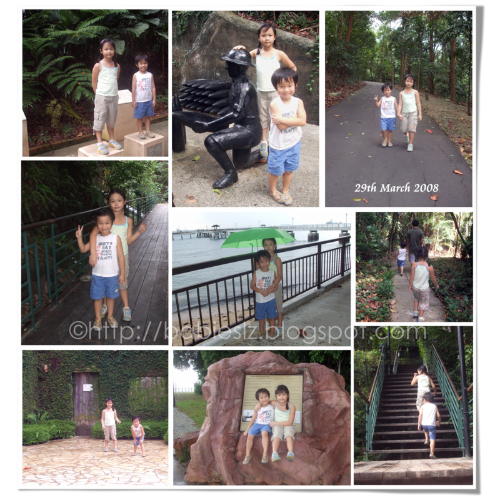 Our first visit to
Labrador Nature Reserve
. We was worried when we made the decision to go there... Wondering if LZ would enjoy themselves and the mozzies! My worries was uncalled for
:)
LZ
had a great time!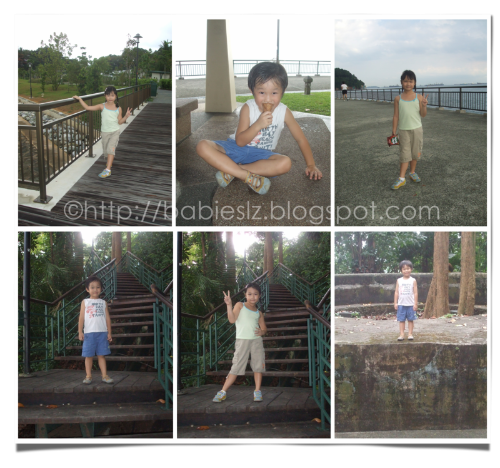 It was very different from what I have seen on the Internet. The place has been upgraded! I was very happy when
LZ
make effort to read the signs, asked questions about war etc. Thank goodness LZdaddy was there to answer them. They said they will be the 'leader'
:)
, leading the way. While walking, we saw soldiers patrolling the area and later, we saw more of them stationed there.
LZ
knew why, they said "to catch Mas Salamat!". They never complained at all when we need to climb the stairs, in fact they were the ones who wanted to :) and when we had to walk on slopes.
The slightly drizzle dampened our spirit a little but we promised to go back there again. Overall, it was a enjoyable trip. After that, we went to Vivo City and had a good meal at
Hanabi Restaurant
. The food was great and it was buffet style, but the manager could have been better. He was staring at us, I think it was because we we dressed very casual (
wearing sport attire
) and stinky (
after a long day out
)!?