L ended her lesson with the previous coach quite abruptly. It so happened that the last lesson was the 4th lesson for the month and we didn't want to wait for another month to start the lesson with the new coach.

LZ new that they will be having lesson together and they were excited. I was worried L would be upset... I explained to her why we stopped her lesson and I think it is important that I do that. She understood what I have told her and in fact, she is very happy that she can swim together with her brother.

Z, he was sooooo excited! Finally he is taking swimming lesson :) I promised to look for a coach for him since end of last year.... I told him whatever I knew about the coach. He looked like he wasn't paying attention but I was wrong... When jiejie came home, he told her everything that I said!

Before the lesson, my sis already told me that the coach will be spending some time correcting L's strokes (The current coach knew who was her ex-coach). This was not the first time I heard negative comments about this coach. Haiz... What is done cannot be undone... At least for the past 1 year+, L enjoyed her time with her friends.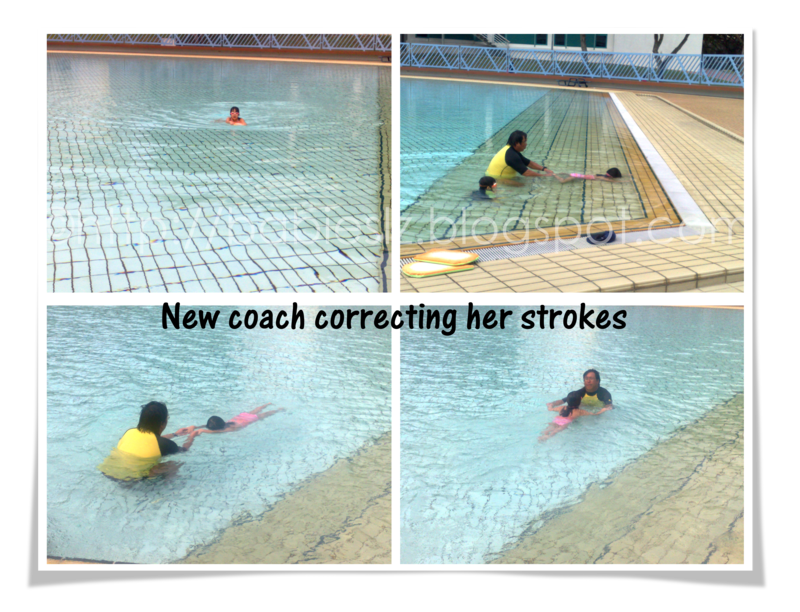 For the
first
lesson, he was
correcting
her hands & legs movements and when to pop her head up to breath (
can you imagine after 1 year she still doesn't do it right?
). For
Z
, he taught him to submerge his head fully into the water and hold his breath. He also taught
Z
a little of the leg movement.
So far, I like the new coach, at least he is
IN
the pool with them and most important is that
LZ
like him. They listened to him and followed his instructions. I'm sure this time round,
LZ
will be swimming with the
RIGHT
strokes. The coach is a survival and competitive swim instructor. I am glad we made the decision
then
. Let's hope they will continue to enjoy the lessons and pick up swimming soon. When we got home, they excitedly told daddy,
"daddy, our coach fat fat one, very cute! We like him!"
:)